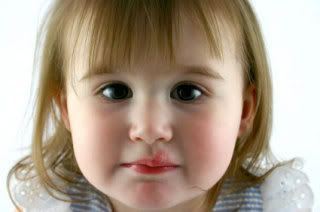 Oral herpes (aka "cold sores") is the most common form of herpes infection and is known as "herpes labialis", which is the infection that occurs when the virus comes into contact with oral mucosa or abraded skin. Once you've contracted it you can never get rid of it–outbreaks decrease in frequency over time but once the outbreak is over the virus enters a remission period during which it "hibernates", or remains dormant, inside the sensory nerve cells of your face (or whever the original site of infection is).
Oral Cold Sore Triggers
When an outbreak occurs it typically lasts between 2 and 21 days, depending on a number of factors (after you read this it should never last much more than 24 hours for you: Cold Sore Home Remedies – What I've Tried and What's Worked), including the state of your immune system, any vitamins and supplements you might be on, how you externally treat it, and any prescription anti-virals you may be taking for it. Outbreaks can almost always be linked back to some change in conditions that weakened your immune system for a period of time thereby allowing the virus to come out of remission and attack: excessive exposure to UV (sunlight), sudden temperature changes (i.e. cold weather, hence the name "cold sores"), other illnesses, poor diet and lack of exercise, and, more than any other, stress.
Spreading Oral Herpes – Did Grandma Infect You?
You most likely got cold sores when you were a small child, and in this case the most likely way in which you received them was being kissed by a close relative who was infected with oral herpes and happened to be shedding the virus at the time (they may have had an active cold sore, but not necessarily as you can still shed the virus even while not displaying any symptoms of the disease). Oral herpes is most often transmitted when there are visible sores on the person's face, however the period immediately before a cold sore emerges is a stage during which the person is asymptomatically shedding the virus and is therefore capable of infecting other people even though there are no outward signs of the disease.
Although many people infected with HSV (Herpes Simplex Virus) develop typical visible symptoms such as lesions and sores, the majority of those infected with HSV (both HSV-1 and HSV-2)  either go undiagnosed or display no physical symptoms of infection (they're asymptomatic) and in many cases the very first symptom a person will have of their own infection is the horizontal transmission of the virus to a sexual partner or the vertical transmission of the virus from a mother to a newborn at term in the form of neonatal herpes which can be very dangerous and is often lethal to the newborn.  (Source: Bio-Medicine.org)
Prescription and OTC Treatments for Oral Cold Sores
Prescription anti-viral medications for herpes work by interfering with viral replication, thereby slowing the replication rate of the virus and giving the immune system more of a chance to shut the virus down before it can cause problems. The three main prescription anti-virals are:
Acyclovir (Zovirax): The most popular and usually first-prescribed cold sore anti-viral medication, this will shorten the duration of the pain by up to 1 day, and can reduce the healing time required for your first (ever) outbreak of herpes by 1 to 2 days.
Famciclovir: This medication is occasionally used to treat the herpes virus that causes cold sores, as well as genital herpes (it acts on both the HSV-1 and HSV-2 strains), and studies have shown that it works as well as Acyclovir in the treatment of oral cold sore outbreaks. Possible side effects include itching, fever, headache, fatigue, nausea, or diarrhea.
Valacyclovir: Valacyclovir was approved by the FDA solely for the purpose of reducing cold sore duration in people who are 12 years of age or older, and it's also been noted that Valacyclovir is absorbed much easier than the other available anti-viral medications such as Acyclovir.  Possible side effects include allergic reaction, headache, skin rash, insomnia, dizziness, and fatigue.
(Source for oral anti-viral info: WebMD)
I'm sure many of you have heard of an OTC (over-the-counter) topical ointment drug called Abreva: Docosanol is an OTC topical anti-viral cream marketed by Avanir Pharmaceuticals under the brand name of Abreva–it was the first OTC anti-viral approved in the U.S. and Canada, its method of action is preventing HSV from fusing to cell membranes, thus preventing entry of the virus into the skin. In my experience it is mildly effective on its own, but very effective if used in combination with a proper home treatment course like what I've found here:
How the cold sore virus replicates and how to stop it
This is going to go into a bit of detail, there's going to be a bit of science and some medical terms, but if you'll stick with me til the end you'll really have an excellent understanding of how this nasty little virus works and how a few simple tweaks in what you eat (most importantly: what to stop eating) and maybe a special supplement you probably haven't heard of before (don't worry, I'm not selling it and it's not expensive) can not only eliminate your cold sore in a day or two but also prevent them from every coming back again. Let's get started…
What causes a cold sore?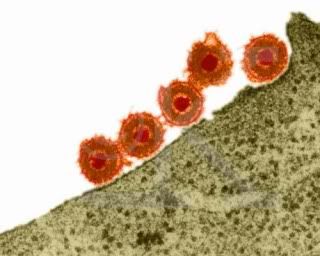 A cold sore is an outward symptom of an outbreak of the Herpes Simplex Virus (usually Type 1, aka "HSV-1″, although HSV-2 can cause oral herpes) usually due to a decreased in immune function, a very common cause of which is exposure to cold weather hence the name "cold sore". To the left you will see the culprit: that's HSV-1 magnified 169,000 times by scanning electron microscope–growl at it or flip it the bird if it makes you feel better
The herpes virus remains dormant in the sensory nerve cells of your face until an outbreak, and no, sorry, there's no cure: once you've been infected, you've got it for life. It's almost always going to be the type 1 strain (HSV-1) of herpes that causes oral cold sores, however cases of HSV-2 causing them have been documented, so it's possible, although rare. However, 1 in 6 cases of genital herpes are causes by HSV-1 (genital herpes is usually associated with HSV-2), so that's somewhat more likely, although the old axiom that if it's above the waist it's HSV-1 and if it's below the waist it's HSV-2 does still generally hold true.
How Did I Originally Get Infected? Or: WHY GRANDMA WHY?!?!
Studies have shown that, the vast majority of the time, oral herpes is transmitted most commonly in someone's youth when they are kissed by a relative who's infected and suffering from an active cold sore outbreak–yeah, that sucks. This is especially likely if you started getting cold sores when you were a small child, which would mean that you were infected when you were very young and therefore most likely acquired it from close contact with an infected relative suffering from an active outbreak. If you acquired it later in life then something else is probably the cause, most likely that you acquired it from an intimate partner through physical contact i.e. kissing someone with a cold sore.
Cold Sore Treatments, Medications, and Remedies
There's a great variety of treatments that myself and my friends have tried over the years: most of us originally went the prescription-combined-with-OTC (over-the-counter) route where we were prescribed something like Acyclovir or Valacyclovir and then used an OTC cream like Abreva. Over the years we've found (myself included) that the best those can do is to shave 1 maybe 2 days off of an outbreak, and that's about it. We've found, through trial-and-error between us over the years, that there are more effective remedies you can put together in your kitchen. Not only that, but there are preventative measures that you can take which will often prevent a cold sore outbreak altogether from happening again, ever, from supplements like l-lysine and Vitamin B-12 to minor but hugely effective little diet changes like avoiding vinegar at certain times because it lowers your blood pH levels and creates an environment much more favorable to the virus replicating and wreaking havoc on your face.
pH Levels, Oxygen, and Stopping the Virus Cold in Its Tracks
The Herpes Simplex Type I virus that causes your cold sores has a very narrow pH range that its environment must be within for it to be able to live and reproduce (by the way, pH is just how acidic or basic something is–acids have a low pH and bases, such as lye, have a high pH) your body's own pH range can easily sway into this territory from time to time due to a number of factors, the most common causes of which are stress, decreased immune function, certain foods, lack of sleep, and excess sunlight–now, where have you seen these factors mentioned before? Probably in an article you read about the most common triggers for cold sores, right? Even if you haven't read about it I'm sure you already know it anyway because you almost certainly would have noticed it: your cold sores tend to occur when you're stressed out, when your immune system is down (this most commonly occurs when you're ill or when it's very cold out), when your diet changes (usually in an unhealthy way, such as the addition of junk food you weren't eating before), when you're not getting enough sleep, etc., right?
The reason for this is that when you allow these things to happen to you, you're creating an environment that is the most favorable for the virus to reproduce and live in (it's when the virus starts suddenly massively reproducing that you get cold sores) by altering your normal pH level for the worse and making it very difficult for your immune system to keep the virus at bay, which it does most of the time, which is why you don't have cold sores most of the time–your immune system is doing it's job, it's only when you make it difficult for it to do its job that problems start to pop up. So, essentially, if you can get your pH level back to normal then the cold sores vanish (this is a bit of an oversimplification, but I just don't have the room here to explain the whole process). Plus, if you just follow a couple simple guidelines concerning diet and cheap, over-the-counter supplements, you can possibly prevent them from ever coming back, or at least make them very rare (most people who follow the program described below will go several years between cold sores, which is usually a huge improvement for them). Now, how do you do that?
My friend Derek, after a couple years of experimentation (primarily on himself! he suffered horribly from cold sores for years) and some consultation with several doctors and herbal specialists, came up with a program he shared with me a couple years back that took some things we already knew about how to get rid of cold sores (taking l-lysine, avoiding stress and too much sunlight, yada yada) to a whole other level, I mean I was just completely blown away, what he originally showed me was a multi-page, super-detailed program he came up with that utilized a few small (as in they won't inconvenience you) adjustments in diet that make a big difference primarily involving what not to eat, along with a combination of several herbal supplements (one is l-lysine, but the dosage is different from what you'd normally take since you're combining it with other supplements) including a new one I'd never heard of called "cat's claw" that came from some weird tree bark in the Peruvian rain forest, plus a couple others that, when combined, have a very powerful and immediate effect on your body's pH level and can quickly bring the Herpes virus to a dead halt, but they have to be combined just right in the correct dosages, plus your diet has to be right because if you're eating any of the several things that can throw off your pH level then it might not work. He's currently put together a fantastic 84-page report you can get here (it's pretty easy reading, you can get through it in a couple hours, no worries) that I highly recommend you check out, just listen to what the guy has to say, he knows what he's doing believe me. I wish I could just give the whole thing to you here, but it's 84 pages long and there's just no way I can fit that into a blog post, plus he won't let me due to copyright issues (I asked already, in fact I had to be careful about how much I gave away to you here about his method!).
I just can't tell you how much of a difference this has made in my life, I used to suffer from cold sores nearly every other month, it was horrible: cold outside? cold sore. hot outside? cold sore. job-related stress? cold sore. the flu? cold sore bonus, yay! have trouble sleeping? cold sore. I haven't had one in nearly 3 1/2 years now, and it all started when I first got that e-mail from Derek detailing something he spent years testing and researching and months writing the rough draft. At the time I had a terrible outbreak, two on my mouth and one just on the edge of my nostril, and they were gone in 48 hours, never to return. I follow his simple guidelines about not eating certain foods when I'm especially susceptible to cold sores (I'm stressed, not getting enough sleep, feeling a little under the weather, etc.) and I always take my daily supplements (3 little pills, which are good for you and have multiple other benefits, plus they're cheap as dirt from my local drug store). If I feel a cold sore coming on, that familiar little tingle, I up the dosage to the level he recommends for when you actually have a cold sore (quite a bit higher than the normal dosage you use to prevent them) and then the tingle goes away and I never see a cold sore pop up, works every time. Again, just for your own benefit I'd recommend you check out his site and see what he has to say, it'll take 5 minutes, that's it: go here to learn how to eliminate cold sores in just a day or two and keep them from coming back ever again.
Cheers,
Lizzy